Impeach and Replace Mayorkas!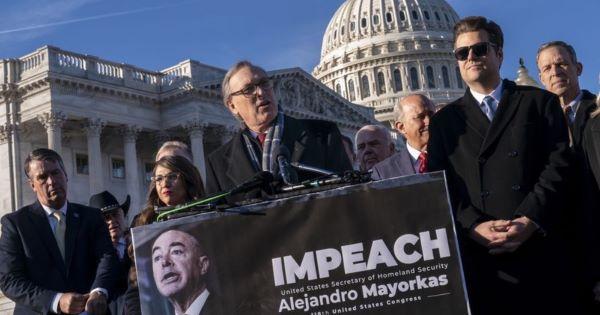 It's High Time to Impeach & Replace Secretary Mayorkas!
Secretary of Homeland Security, Alejandro Nicholas Mayorkas, in violation of his constitutional oath, has engaged in a pattern of conduct that is incompatible with his constitutional and statutory duties as Secretary of Homeland Security.
Senator Marshall has introduced a resolution calling for a 'No Confidence" vote which will lead to immediate impeachment and replacement of Mayorkas.
Hold Mayorkas accountable for his intentional suspension of border and immigration laws and refusal to honor his oath of office and his sworn duty to perform, which includes the Secure Fence Act of 2006 requiring the Secretary and Homeland Security to ''take all actions necessary and appropriate to achieve and maintain operational control over the entire international land and maritime borders of the United States'' including ''the prevention of all unlawful entries into the United States, including entries by terrorists, other unlawful aliens, instruments of terrorism, narcotics, and other contraband".
Mayorkas has refused to enforce all border and immigration law and executive orders, has implemented unlawful, unauthorized directives, is responsible for breaking every record (including unaccompanied minors sold into slavery), repeatedly perjured himself, and has completely surrendered operational control to the cartel.
Call on Congress to introduce and pass an emergency joint resolution to immediately impeach and replace Mayorkas and restore border and immigration law enforcement now!
"A nation that cannot control its borders is not a nation."
Help Us Impeach and Replace Mayorkas!
Every dollar raised will be dedicated to raising awareness, and mobilizing grassroots pressure on every elected official to impact policy.