No Voting Machines 2022!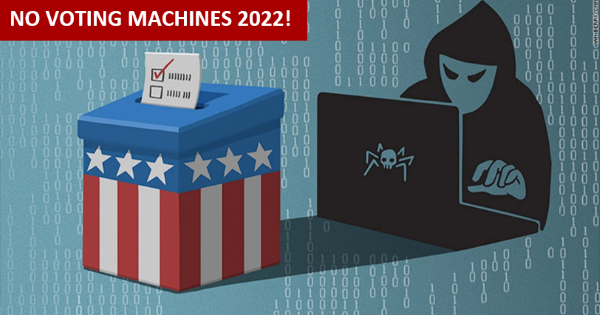 The Voting Machines Must Go! Secure One Man, One Vote for this Midterm Election!

In-Person Paper Ballot Hand Counts ONLY!

We must prevent a repeat of the General 2020 Election and guarantee the results of the 2022 Midterm election reflects the true will of the people.

We are calling on all states to ban the use of all electronic voting machines, including ballot tabulators, in this upcoming election.

Jim O'Connor, Arizona State Corporate Commissioner, has kicked off this movement, distributing an official letter to every Arizona county official calling on them to conduct the Midterm elections by paper ballots processed by hand count.

All machines are a national cyber security risk that is unsecure, hackable, and inaccurate! County election results must be hand delivered without the use of electronic transmission or transportable memory devices that can be digitally altered.

We need to flood officials with our call to action! Take 2 minutes to click to send an email, sign our petition, post to social media, and make a phone call today!
"America will never be destroyed from the outside. If we falter and lose our freedoms, it will be because we destroyed ourselves."
Help Us Ban All Voting Machines!
Every dollar raised will be dedicated to raising awareness, and mobilizing grassroots pressure on every elected official to impact policy.