Dear
For 20 years I've strived to make a difference, to BE different.
I did not name the organization, "Think for America", I named it ACT for America!
[FNAME], Conservatives are the most educated, most informed group of people in our country. There's no shortage of conservative education and cultural impact organizations and personalities! We are one-but WE are so much more!
At least 95% of conservative organizations are academic or legal think tanks that publish wonderful articles and, perhaps, help develop resources on public policy and strategic national talking points and 95% of money raised goes towards "education".  
Then there's the political activism that involves funding candidates, parties, and political PAC's. It's vital that we participate in elections and help get folks that represent our values elected to office. It's also vital to raise awareness of local political offices that are underserved in your community that can have a tremendous impact on your culture, security, and freedoms including your City Mayor, City Council, District Attorney, Judges, Sheriff, and School Board.
At Act for America, we are solutions based [real] grassroots activism, highly trained to scan and identify problematic culture and policy issues that are either promoted from the Left or are gaps and underserved issues that need policy solutions.  
Grassroots is the most underserved aspect of civic duty in the lives of conservatives, largely due to lack of knowledge on how our representative government works!
The Left and Progressives advance every pursuit, first at the local level. They develop the illusion that they represent a large local base, they form micro movements that establish shell organizations for press, media outlets, and grassroots, they develop their strategic talking points, they organize their volunteers to contact local officials on a regular basis, and shape policy from the bottom up.
The Left exploits every city's weakness and fills every strategic void in governance and administration. It's time for the people to become a true lamp on the hill shining brightly upon their cities and confront the corruption and darkness wherever it's found.
Grassroots is Representative Government! Grassroots is not political campaigning or think tanking. Real grassroots organizing is the mechanism that informs and channels local efforts, acting as Representative Government, to produce desired policy AND accountability outcomes!
Grassroots, done right, means the governed rule their own destiny as the Founders intended!
We must all work together to do things differently than we have! Supporting education and political campaigns, even volunteering during election season, is not enough! We must build our grassroots infrastructure to beat the Left from the bottom up!
2022 Midterms came and left with a clear understanding that much more work needs to be done. MOST of it relies on local efforts.
We have so much to hope for in 2023!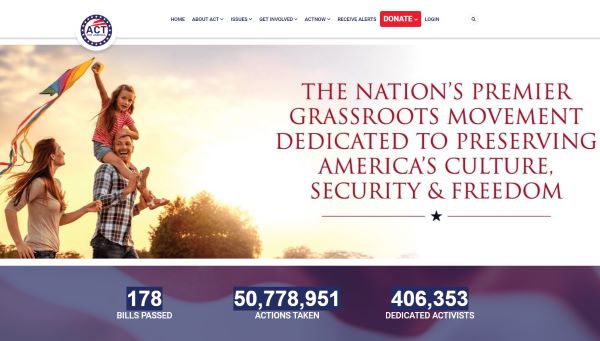 We set the nation on fire with REAL GRASSROOTS action with over 50,000,000 emails, petitions, and phone calls to state and federal elected officials this year alone!
We just broke Arizona grassroots records with over 1,500,000 actions to ban the machines and redo the election!
With your continued support and engagement, we will do what we do best; we will fight to BE the difference we all hope for!
I thank you from the bottom of my heart for your support!
Brigitte Gabriel
President and CEO 
ACT for America Education, a 501(c)(3) organization.
All donations are tax-deductible.
869 Lynnhaven Pkwy, 113 #411
Virginia Beach, VA 23452 USA