YOU DON'T WANT TO MISS THIS!
We are so full of hope and anticipate
BIG MOVES in 2023!
Last year, at this time, we celebrated the launch of our new ACT NOW one-click legislative action tool that resulted in
7 million actions in the first 90 days!
Just one year later, we are celebrating over
51 million actions!
Promise Delivered!
Can I count on your support of $25, $50, $100 or more to double our impact in 2023?!?
Last year we shared with you our "great hopes, plans, and vision" and we DELIVERED on our commitment to you!
Only 78 days ago we reported 28+ million actions, which means we nearly DOUBLED our growth in engagement, which continues to accelerate as I write to you!
But why is this so important?
Because Act for America focuses on achieving real results through real actions of grassroots real representative government to shape our policy and cultural priorities!
Can I count on your end of year tax-deductible donation of $25, $50, $100 or more today?  
The number one priority for Act for America in 2023 is to
BAN ALL VOTING MACHINES!
That's right, we are going to 'Vote Amish' with traditional hand count, paper ballot elections in 2024!!!
You know and follow organizations that are talking about BIG PROBLEMS, but have you seen any organization delivering real grassroots action to DO something to solve BIG PROBLEMS?
Where others will educate you, Act for America is working hard towards BEING the solution…and we have the numbers to show for our work!
You've seen the evidence of our work and 2023 will be a banner year! 
We give thanks for you and your support that helped us achieve a real impact in 2022 and the past 20 years we've been fighting! 
Will you stand with us now, more than ever, as we prepare for our greatest year ever? Will you be a part of the greatest reformation and transformation in America's history?
We are just $18,407 short of missing our year end budget for 2022!
Help us finish the year strong and send us out to fight another year! Please rush your end of year tax-deductible donation of $25, $50, $100 or more today!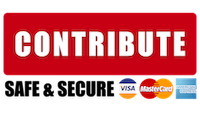 ACT for America Education, a 501(c)(3) organization.
All donations are tax-deductible.
869 Lynnhaven Pkwy, 113 #411
Virginia Beach, VA 23452 USA