What do we know about Biden's Red Zeppelin Chinese EMP 'Spy' Balloon?
China sent a clear, provocative, and aggressive threat to the United States of America!
China has demonstrated they can conduct an unimpeded EMP strike anywhere in the nation and the Biden Administration and US Military will DO NOTHING to stop it!
The US Military was aware of the Chinese SPY-EMP Balloon BEFORE it entered US Air Space, just off the Alaskan Aleutian Islands, should have defended the sovereignty of US Air Space, and downed this craft immediately, regardless of the story being told by Chinese leaders.
"Weakness breeds aggression" -Mike Pompeo  
Biden's Red Zeppelin is only one of three launched by China, the second flew over Latin America, and the Pentagon has not revealed where the third balloon was spotted.
This Chinese SPY-EMP Balloon was estimated to span the size of 3 School Busses or 120' in diameter!
The White House and Pentagon did not alert the public UNTIL a citizen in Montana spotted and reported this craft!
Experts warn balloon crafts like this are key delivery platforms for secret nuclear attacks, and typically carry highly sophisticated surveillance and radar equipment. A craft like this can easily be equipped with an EMP Delivery Platform and Device that can deliver a payload that would DEVESTATE the United States.
Sources are reporting that this balloon was carrying more than just the highly sophisticated surveillance system reported by the Pentagon, but also that an EMP Delivery Platform and Device was confirmed on board.
Regardless of whether or not the CCP acquired surveillance over sensitive military bases, which they already capture through satellite surveillance systems, and regardless of whether there was or wasn't an EMP device on board, the message Biden sent to the Chinese was that our weak administration is not prepared to defend US sovereignty in the air!
The White House and Pentagon showed disastrous projection of weakness and catastrophic failure of leadership!
At Act for America, we have been warning about and fighting to defend against the threat of EMP from Iran, Russia, Korea, and China for two decades! When the EMP Commission testified before a Congressional Committee back in 2008, they delivered a chilling assertion that a prolonged collapse of this nation's electrical grid (such as a strategic EMP attack)—through starvation, disease, and societal collapse—could result in the death of up to 90% of the American population!
Today our US power grid is STILL NOT HARDENED from an EMP attack! We've allowed lobbyists from the energy industry to buy favor from our US Congress that repeatedly caused EMP Defense bills written to harden our critical infrastructure to die in committee time and time again!
Former President Donald Trump was the first President to make an executive order requiring the coordination to harden critical infrastructure from EMP attack since President Ronald Reagan in the 80's.
It appears China is getting their monies worth out of the China-Biden Administration who allowed the enemy to freely fly across the entire country, literally coast to coast, with an EMP threat on board, placing the entire country under the greatest national security threat we face! It appears providing "for the common defense" is at the bottom of the WOKE priority list for America!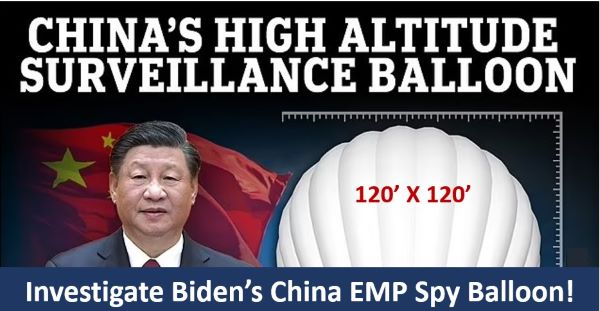 Dry run: Balloons called top 'delivery platform' for nuclear EMP attack
by Paul Bedard, Washington Secrets Columnist | February 03, 2023 | Condensed
In a 2015 report for the American Leadership & Policy Foundation, Air Force Maj. David Stuckenberg, one of the nation's leading EMP experts, wrote extensively about the threat balloons carrying bombs pose to national security.
"Using a balloon as a WMD/WME platform could provide adversaries with a pallet of altitudes and payload options with which to maximize offensive effects against the U.S.," he wrote in the report.
On Friday, he told Secrets, "China's recent balloon flyover of the United States is clearly a provocative and aggressive act. It was most likely a type of dry run meant to send a strategic message to the USA. We must not take this for granted."
EMP experts have warned that China, North Korea, Russia, and Iran have programs to hit the U.S. grid with electromagnetic pulse weapons that would cut the cord for a year or longer. A congressional report has warned that a blackout that long could result in millions of deaths.
He wrote in the report, "Peter Pry, a former CIA analyst and member of the Congressional Commission to Assess the Threat to the United States from EMP Attack, stated, 'Imagine the consequences of a balloon EMP attack that damages and destroys electronic systems at the speed of light within an EMP field with a radius of hundreds of kilometers. The Eastern Grid generates 75% of U.S. electricity and supports most of the population." Pry also notes, "Virtually any nuke detonated anywhere over the Eastern Grid will collapse the entire Eastern Grid, not just the area within the EMP field, because of cascading failures that will ripple outward."
Stuckenberg concluded in his paper, "In the case of EMP, the consequences of a failure to anticipate ALL delivery modes within the reach of an imaginative enemy could be immediate and widespread. As guardians of our nation's future, planners must leave no stone unturned in the effort to deprive America's enemies of low cost, low tech, high-consequence military options."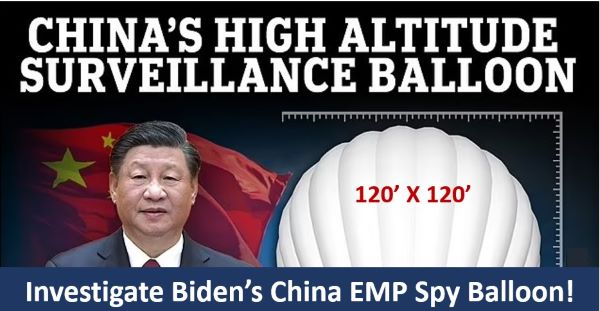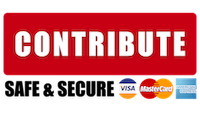 ACT for America Education, a 501(c)(3) organization.
All donations are tax-deductible.
869 Lynnhaven Pkwy, 113 #411
Virginia Beach, VA 23452 USA