The CCP Chinese Communist Party wants a weak, divided America and has weaponized TikTok as a global SPY technology in what is the largest, most successful intelligence gathering operation ever launched, right under our noses!
TikTok is used by more than 100 million Americans, including 2/3rds of American teens, and is the 2nd most popular domain in the world!
The CCP Chinese Communist Party partially owns a subsidiary of ByteDance Ltd., TikTok's Parent Company, and under China's 2017 National Intelligence Law, all businesses registered or that have operations in China are required to assist the government of China in intelligence work, including data sharing and data collecting.
TikTok's popularity stems from its user permissions to spy and collect data on individuals, including all apps, user activities, and geodata on where users travel, work, and sleep.
TikTok's behavioral algorithmic personalization feeds addictive user behaviors and is now suspected to cause intentional mood disorders including anxiety, depression, brain fog, and learning disorders.
TikTok users have unwittingly allowed the CCP to collect the most sensitive personal and financial data, including who you bank with and where you spend money. Worse, for those working in the federal or state government, or serve in the military, carrying a device allows the CCP to surveil your movements, your position or rank, who you work with, and even gain access to work email that can lead to ransomware deployment and cyber-espionage.   
Let's call on Lawmakers to Ban the TikTok Chinese Spy App in all 50 states while most are in session!
Striking While the Iron is Hot! US Lawmakers at the state and federal level are accelerating bi-partisan calls to ban TikTok, WeChat, and other apps and platforms owned by ByteDance, the Chinese owned parent company. MOST States are in legislative session and nearly half have a TikTok Ban bill in committee!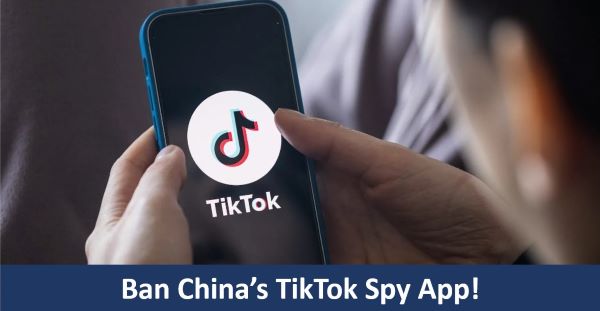 High Priority Bills to Ban TikTok! 
Congress passed a law banning TikTok from all federal devices in December of last year, but more needs to be accomplished to achieve real cybersecurity.
At the Federal Level we have the following three bills to pass this session including:
HR 57 Protecting Personal Data from Foreign Adversaries Act
HR 231 Terminate TikTok on Campus Act of 2023
HR 503 No TikTok on United States Devices Act
A more comprehensive bill is forthcoming from Senator Marco Rubio titled Averting the National Threat of Internet Surveillance, Oppressive Censorship and Influence, and Algorithmic Learning by the Chinese Communist Party Act or ANTI-SOCIAL CCP Act.
Back in August of 2020, former President Donald Trump issued an executive order banning all US companies from doing business with ByteDance, the Chinese Parent Company of TikTok. Unfortunately, President Biden rescinded this order in the summer of the following year.
Also in 2020, the U.S. armed forces prohibited the app on military devices, but this partial ban did not prohibit access through the internet! What a joke!
Twenty states have a TikTok Prohibition Bill in their State House, State Senate, or both, including: 
Arkansas SB4, California AB227, Connecticut SB00380/SB0052/HB06402, Florida H0563, Hawaii HB 460, Indiana HB1517, Kansas HB 2314, Kentucky SB20/HB124/HB155, Maryland HB1141, Michigan SB0015/HB4041, Mississippi SB2140/HB279 (just died in committee!), Missouri SB596/HB919, New Jersey S3462/A5080, New Mexico SB208, New York S00508/ A03317, North Carolina S83, Pennsylvania SB379, South Carolina H3448, Virginia SB1459/HB2385, West Virginia SB215/HB2542.
State Efforts to Ban TikTok
At the state level, as many as 27 states enacted full or partial bans on TikTok through executive orders or other official requests, with some states also banning parent company affiliates.
Nine of these states have yet to introduce a TikTok ban in the state legislature including Idaho, New Hampshire, North Dakota, Ohio, Oklahoma, South Dakota, Texas, Utah, Wisconsin, and Wyoming!
As early as August of 2020, the Nebraska and Florida State Governors acted to ban TikTok from state government devices and networks.
Two years later, at the tail end of 2022, seven additional states issued a Governor issued Executive Orders to prohibit the use of TikTok in response to the FCC Federal Communications Commission calling for a nationwide ban of TikTok and all affiliates including telecom companies, service providers, and equipment in the government and private sectors. These states included Idaho, Kansas, New Hampshire, South Dakota, Texas, Utah, and Virginia.
In January of this year the Governor's of Arkansas, North Carolina, and Wisconsin issued similar Executive Orders.
In the last two months, Maine, New Jersey, and West Virginia issued Emergency Directives to begin the process of prohibition of TikTok. In addition, eight states made softer moves such as letter's written by a Governor requesting state agencies begin the process of prohibition in varying degrees, without enforceability of any kinds, and include Alabama, Georgia, Illinois, Iowa, Louisiana, Mississippi, Montana, and South Carolina. 
College and University campuses in Alabama, Georgia, Idaho, and Texas also began to enforce TikTok prohibitions on campus including Wi-Fi and campus IT networks, forcing students to only access TikTok on their personal devices using their cellular carrier.
It's time to get serious and defend National Security and Cybersecurity, banning TikTok and all Chinese owned affiliate companies at the federal and state level!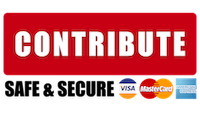 ACT for America Education, a 501(c)(3) organization.
All donations are tax-deductible.
869 Lynnhaven Pkwy, 113 #411
Virginia Beach, VA 23452 USA