It is abundantly clear that America needs to make some dramatic changes on how we educate our youth.
The upside down, woke world we live in is largely thanks to public school and university indoctrination centers that have warped traditional American values taught at home that are challenged and deconstructed during the daily 6-7 hours of training at K-12 public schools, followed by intensive social deconstruction and revolutionary, liberal revisionism at colleges and universities (unless they attend Hillsdale, Regent, or other values centered higher education setting). Garbage in, Garbage out!
"Give me just one generation of youth, and I'll transform the whole world."
America's school age children are only one generation away from shaping our culture and policy. Most liberal activists are mobilizing to reshape our culture through lies and propaganda to set new public policy like we are seeing with perversion of Title IV, Gender Fluidity, and Race Theory.
If the last couple generations have contributed to our drastic moral decline in culture and policy, IMAGINE what twisted, upside down culture war is being minted in our children's minds attending public schools RIGHT NOW!
"Children are like wet cement. Whatever falls on them makes an impression."
The number one priority all Americans should act upon is to make a way for parents to exit public school and provide affordable educational alternatives that are more aligned with their values AND provide the highest quality education possible.
The Left is waging war on America through a weaponized education system. It is a war of good versus evil, right versus wrong, truth versus lies, and America's children are caught in the cross hairs; The Left is using children as cultural and political weapons. 
Universal School Choice Provides Immediate Safe Haven for America's Children
We need to make a calculated decision to enable children trapped in the "free" public school system NOW.
Every American is funding public school!
Are you paying property tax, rent, state income taxes, city taxes on goods and services, and federal income tax? Then you are funding this weaponized public school indoctrination system.   
Every American has a stake in this fight!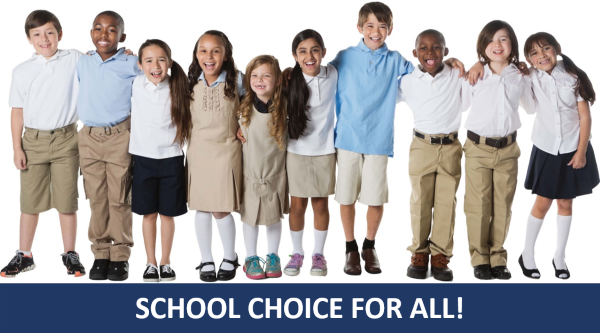 In July of 2022 Act for America followed the Arizona State House Bill 2853, billed as the FIRST Universal School Choice law enacted in the United States, which expanded an existing ESA Education Savings Account to allow ALL school age children access to this ESA without restrictions or strings attached.
This bill allows parents to register for an ESA savings account valued at an estimated $7,000 a year, per student, that includes home school or religious private schools, has no limitations based on household incomes or zip codes, and zero government strings like state assessments and testing, as we've seen with other state school voucher and school choice legislation across the country.
This legislation is NOT a state government subsidy that would be directed to private schools, and it does not provide a pathway for government control and intrusion, as many critics fear.  
For those that are homeschooling or utilizing independent micro-schools that are completely independent from government school programs, this legislation poses no threat to their already successful public school exit. However, for these families struggling to make ends meet in paying for curriculum or loss of income, when a parent has chosen to give up their job to stay home and educate their children, this legislation could make a tremendous difference in their household budget. If anything changes the nature and intent of this freedom of choice, parents could simply opt out of the savings account and return to their independent status.  
Less than 1 in 10 Americans oppose School Choice, while 3 in 4 Americans support the policy.
Parents on both sides of the political fence are overwhelmingly advocating for School Choice. Conservatives have long believed school choice will lead to more religious freedom and reduce the government's role in education. Should we not all advocate for a parent's right to choose what's best for their children?
Considering the warfare against our children, the priority must be implementing policy that immediately lifts the financial burden that is creating the obstacle for parents who LARGELY desire to exit public school now.
As we press ahead for a true, universal school choice legislation like Arizona HB2853, we must all remain engaged and vigilant to protect the nature and intent of this model legislation.
"The price of liberty is eternal vigilance" - Thomas Jefferson
Visit our Campaign Resources Full Report including Arizona State model legislation and press releases, click here>>
Don't wait to Exit Public School!
ACT for America Education, a 501(c)(3) organization.
All donations are tax-deductible.
869 Lynnhaven Pkwy, 113 #411
Virginia Beach, VA 23452 USA