Parental Bill of Rights in All 50 States
How Grassroots is Taking Parental Power Back
Act for America | 04/07/23
Last week we announced a major victory, passing a US Parents Bill of Rights Act Bill HR5 in the House.  
ONE WEEK LATER, we acted 3 million times, increasing from 15 million to 18 million actions!
Thanks to people like you, we hit over 100 million total actions taken last week!
America Wants a Parental Bill of Rights!
Act for America has been fighting for Parents and Children for two years now. It all began with Governor DeSantis working with the Florida state legislature to craft and pass the first parental rights bill in the nation.
Act for America members took this model legislation to the other 49 states and Congress, and people like you acted over 18 MILLION TIMES, sending shockwaves through the halls of your state capitol all the way to The Hill!
Nationwide Legislative Update
In 2022, ONE bill in ONE state sparked three additional states to jump in and pass a Parental Rights bill thanks to tremendous grassroots pressure. The four states protecting parent's rights include: Arizona HB2161, HB2439; Florida HB1557, HB1467; Georgia HB1178; and Louisiana HB369. 

This year grassroots pressure resulted in 24 states with pending Parental Rights legislation including: Arizona HB2533, HB2786, SB1703, SB1005, SCR1025; Arkansas HB1738; Hawaii SB1428, HB519; Indiana SB0413; Iowa SF496, SSB1145, HSB222; Massachusetts H458; Minnesota SF3032, HF1590, SF1452, HF353, SF76; Mississippi HB509, SB2764, SB2761; Missouri SB4, SB451, HB627, SB158, SJR6, SB89; Montana SB337; Nebraska LB374; New Hampshire SB272, HB10; New Jersey A5110, S2483, A3895; North Carolina S49, S74, H58; Ohio HB8, Oklahoma SB131, HB1781, HB2670; Pennsylvania HB319; Rhode Island H5688, S0414; South Carolina S0234, H3197, H3485; Texas SB8, HB5261, SB981, SB393; Virginia SB1199, SB832; Washington SB5024, HB1601; West Virginia SB655, HB3118; and Wyoming SF0117.

The following states have successfully passed legislation in one chamber and crossed over and need extra help to get their bills across the finishing line! These states include Arizona, Arkansas, Iowa, Missouri, New Hampshire, North Carolina, and Texas.
In Texas the SB8 Parental Bill of Rights includes a Universal School Choice piece which passed in the Senate but has been stalled in the House, who is arguing for more limitations. It's time for a BIG PUSH!  
Call on your state representatives to Protect Parental Rights today calling for introduction &/or passage of a bill! We need legislation in all 50 states to prevent school boards and teachers' unions from hiding information from parents on curriculum, supplemental materials, and gender fluidity policies that are designed to influence and indoctrinate young children.
You are making a difference and we are so thankful for you.
Together we are making history!
Let's ACT NOW and help pass this bill in the Senate and every state while the winds are in our favor!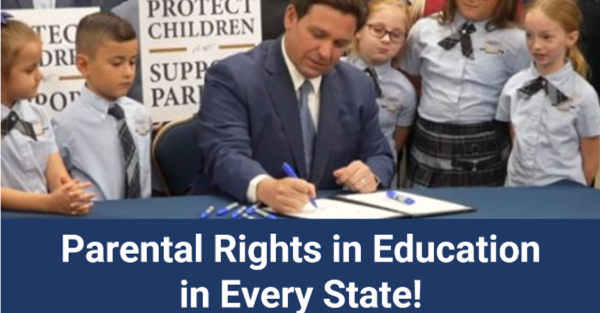 "The family has always been the cornerstone of American society. Our families nurture, preserve, and pass on to each succeeding generation the values we share and cherish, values that are the foundation of our freedoms." - Ronald Reagan
Stronger together!
ACT for America Education, a 501(c)(3) organization.
All donations are tax-deductible.
869 Lynnhaven Pkwy, 113 #411
Virginia Beach, VA 23452 USA