ALERT! We have opportunistic representatives on the Hill weaponizing 'TikTok' legislation AGAINST We the People.  
In our line of work vigilance is required to ensure any issue or bill we campaign for doesn't evolve into something unintended and we especially watch for bait and switch tactics or bill naming that conceals or pretends to be advocating for the opposite result. 'Build Back Better' Anyone?   
Our fight for the banning of Chinese Spy Apps, for instance, requires absolute precision and care to ensure strong limits on government intrusion and the preservation of civil liberties and constitutional protections for all Americans.
If these CCP owned apps were sold to a US firm, all spy capabilities were stripped from the coding, and an individual's privacy could be guaranteed, we would support that effort and applaud these apps as a free speech platform.  
We staunchly defend civil rights and have advocated for freedom of speech for 20 years. We understand the gravity and responsibility of calling for bans on social media platforms and it's important to make a clear case and distinction as it relates to TikTok and the long list of CCP owned companies, applications, and products disguised as social media apps, but intentionally designed to gather intel from our military, government, and state officials and their staff.  
To put it simply, TikTok is a weaponized social media platform hiding in plain sight.
We strongly believe in passing legislation to protect the privacy of users and prevent government, foreign nations, and corporations from spying on citizens.
Afterall, isn't this why so many patriots abandoned social media platforms in favor app's that provide freedom of speech combined with privacy protection? Isn't this why so many Americans use encryption technology and VPN's and other methods to protect their privacy?
'The Restrict Act', DISGUISED as a TikTok ban, is a VERY DANGEROUS Digital Patriots Act 2.0, a warrantless government surveillance authorization bill, that DWARFS in comparison to the powers authorized under the Patriot Act.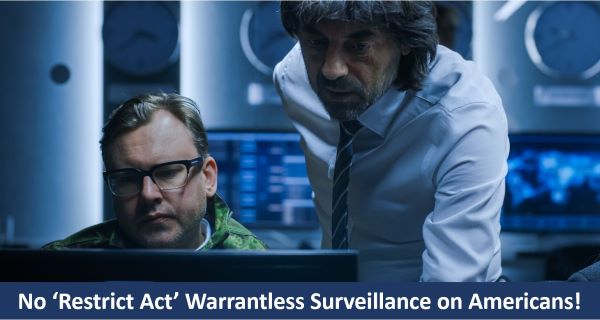 The Restrict Act will give the government unfettered power and authority to weaponize against platforms, organizations, and individuals, eliminating our right to privacy and creating a CCP/European Surveillance system that allows access to ALL digital activities and technologies in use today. Reading this bill makes your blood run cold!
Any elections conducted using any digital technology would include unfettered federal government surveillance and intrusion, violating our constitution.  
The 'Restrict Act' also poses a grave threat to State Sovereignty and the natural balance of powers guaranteed by our constitution.
The Bait and Switch deception at play is that, in the name of restricting foreign adversaries (including the CCP) from weaponizing against America and its citizenry, these anti-American representatives are attempting to implement a more extreme version of weaponized spying on US citizens that includes enforcement and imprisonment if we attempt to use privacy protection applications. 
The timing is very interesting.
As the Biden Administration forges ahead with a World Health Assembly WHO agreement that will sign over US Sovereignty to UN-WHO global medical police surveillance (owned largely by the CCP), the US legislators are scheming to adopt full CCP surveillance and enforcement authorization in the name of banning the CCP spy apps.
In other words, the 'Restrict Act' is simply transferring power from CCP controlled surveillance technology to US controlled surveillance that covers ALL digital technology, which they will freely share with WHO member nations, including the CCP.
We consider the WHO Agreement and the 'Restrict Act' to be the two sides of the same double-edged sword and THEE greatest threats to our sovereignty and security presently!

GAME CHANGER: Become a digital campaigner and stop the 'Restrict Act' with the help of your friends and family today! Please take time to CALL your Senators.
We thank you for your support!
ACT for America Education, a 501(c)(3) organization.
All donations are tax-deductible.
869 Lynnhaven Pkwy, 113 #411
Virginia Beach, VA 23452 USA