Fighting for Voter ID in Every State
2 States Down, 15 on the Horizon!
Why Voter ID and Strict Legal Photo ID with US Citizenship Requirement is Important.
When we launched our Voter ID campaign one year ago, 49 states had zero election security to prevent illegal, foreign meddling in elections. Voter registration is still commonly automatic or easy to opt in when a state issues a legal ID card and all, but 2 states have a citizenship verification process connected to applications for new or renewal cards. Big Problem!  
With the flood of illegals coming into our country from all over the world, our 'voter rolls and polls' need serious election fraud prevention measures to stop foreign meddling. Read more.
Over 1.7 million actions have been taken calling for Secure Voter Rolls and Polls with Voter ID, Strict Legal Photo ID, and Citizenship Verification Requirements.
Today, because of activists like you, we have 15 States with 51 Bills to secure our voter rolls and polls! 
Whether you are here legally, visiting, or illegal in the country, we all have bills, bank statements, and other forms of ridiculous accepted documents that most states allow to cast a vote that simply prove you are alive, and not that you are a legal voter!
One year ago, North Carolina was the only state that attempted to pass a Voter ID card provision law held up in the courts until a favorable ruling by a higher court in 2022. Most states held off attempting strict or provisional Voter ID legislation until some key court cases, like this one, were decided. 
Meanwhile, in 2022, Alabama state made an interesting policy move that avoided Voter ID policy and simply passed a very strict law that requires ONLY state or government issued photo identification to register voters and vote at the polls or absentee ballot with very strict proof of citizenship requirements to acquire a state issued identification card. Alabama was the first and ONLY state in the nation to secure the voter rolls and polls.
In 2022, we saw Missouri and Nebraska move from unstrict to more strict photo ID laws, but they do not have a citizenship requirement for the state issued photo identification, leaving the voter rolls and polls wide open for foreign meddling.  
This year we passed our first provisional Voter ID bill in Ohio HB458 moving them from unstrict to strict legal photo ID and a free provisional Voter ID card will be available to voters. Ohio also implemented strict citizenship verification, making them the second state in the nation to secure the voter rolls and polls.
Strict Photo ID Alternative to Voter ID Cards
Most states are moving away from a strict 'Voter ID ONLY' solution after a number or lawsuits were filed and the Left ran a smear campaign accusing Pro-Voter-ID policy makers of attempting "Jim Crow Laws" seeking to disenfranchise voters by making it impossible to vote.
However, thanks to your advocacy, states are now introducing bills to secure our voter rolls and polls.    
The following bills are pending in state legislatures and need our support to pass, including:  
Idaho H0124, H0340, H0126; Illinois HB1141, HB3658, HB3794, SB1269; Maine LD34; Maryland SB567, SB750, SB567, HB1212, HB926, HB1216, HB1264, HB35; Michigan HB4227; Minnesota HF1251, HF1651, HF573, HF965, SF1128, SF515, SF521, SF545, SF630, SF829, SF970; Missouri HB783, SB346; Nebraska LB230, LB535, Initiative 432; New Hampshire HB460, HB482, SB156; New Mexico HB110; New York A03497, A04414, A06038, A06111, A06297, S00876, S04673, S06139; North Dakota HB1299, SB2157; Ohio HB458; Oklahoma SB1009, SB1019; Texas HB1356.
For states left out in the cold, keep up the pressure by acting on our campaign calling for legislation to be introduced. Blue states are working hard to pass legislation that goes in the opposite direction of our Voter ID and Strict Photo ID with citizenship verification requirements!
By engaging in our campaign, your impact is two-fold, calling for secure election laws and stopping bad laws that make election fraud easy.
Click here for our full report>>
Support our work and ACT NOW below! Together we will create a legislative firewall to stop the Lefts agenda which requires a lot of diligent man-hours!!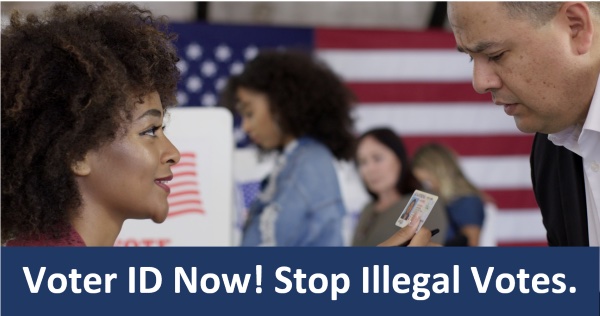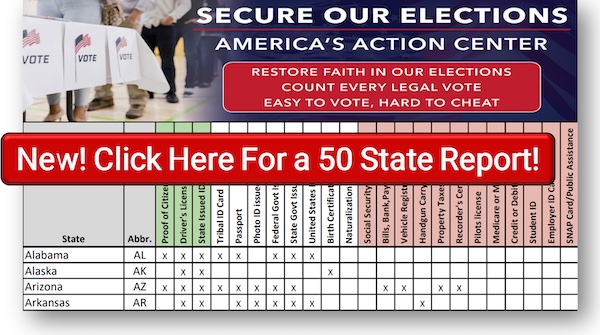 A special thank you to all our supporters that make a real impact possible!
ACT for America Education, a 501(c)(3) organization.
All donations are tax-deductible.
869 Lynnhaven Pkwy, 113 #411
Virginia Beach, VA 23452 USA