Recertify Election-Set Aside Maricopa County!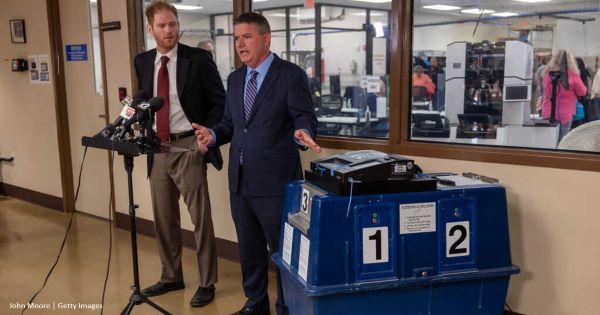 Arizona State Update:
Decertify and Recertify, Excluding Maricopa County, by Setting the Election Results Aside.

Katie Hobbs violated and continues to violate 'Conflict of Interest' State Law.
Over 30% of Maricopa County Voting Centers experienced catastrophic voting machine failure rates, causing an uncounted 'misread ballots' rate reported between 25%-90% that continued for hours into the day. The state standard is a 100% errorless tabulation rate.
The state failed to promptly remedy the many elections day failures including extending the poll hours and evoking emergency contingency plans to allow acceptable wait times and public guarantee that their vote could be cast and counted!
There is an incalculable number of voters that were turned away at the polls OR were forced to entrust their ballot to the misread ballot box #3 proper handling.
Misread Ballot Box #3 improper handling has been reported, occurring at multiple locations compromising the chain of custody, security of these ballots, and the question of whether they were properly separated and sealed for counting.
Elected officials have refused to provide proof of the legal certification of all voting machines and electronic devices, as required by state law, potentially defrauding the entire state of Arizona, in the 2018, 2020, 2022 Primary Election, and 2022 Midterm election.
Call for Arizona Lawmakers and Elected Officials to Take Action!
"America will never be destroyed from the outside. If we falter and lose our freedoms, it will be because we destroyed ourselves."
Help Us Stop AZ Election Certification and Redo Maricopa County Elections!
Every dollar raised will be dedicated to raising awareness, and mobilizing grassroots pressure on every elected official to impact policy.