In case you missed it….we were heavily censored and blocked on this email and we want to make sure all our members had a chance to see it.
Congratulations on another big win! The Parents Bill of Rights Act Bill HR5 passed in the House. No doubt you heard the news over the weekend.
Act for America has been fighting for Parents and Children for two years now. It all began with Governor DeSantis working with the Florida state legislature to craft and pass the first parental rights bill in the nation.
Act for America members took this model legislation to the other 49 states and Congress, and people like you acted over 15 MILLION TIMES, sending shockwaves through the halls of your state capitol all the way to The Hill!
We thank all of you for standing and fighting with us! We are making a real difference with our simple 2 minute one-click engagement on campaigns like this. We are making grassroots history!
Have you ever seen numbers like this?!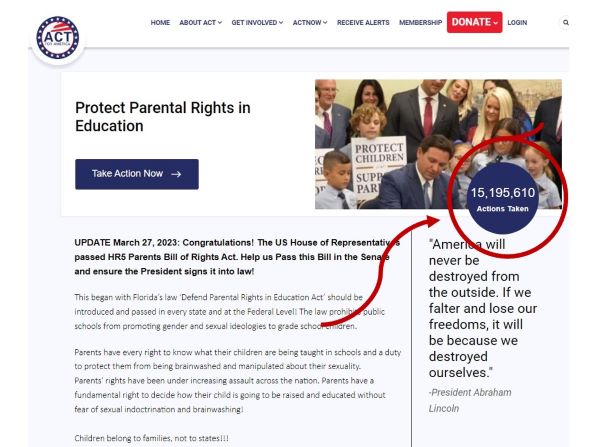 We've been a real grassroots movement for 20 years. Together we have built up a lasting infrastructure of both long-time friends and MANY new, who are joining us in this fight every week! In fact, we've added nearly 20,000 activists in just the past six weeks!
Take a moment and savor this victory with us! This victory is YOUR victory!
Let's ACT NOW and help pass this bill in the Senate and every state while the winds are in our favor!
Updated March 27, 2023!
Join the Fight for Parents and Children
We're fighting for comprehensive Education Reform in every state!
We're fighting for a Parental Bill of Rights in every state. In 2022, we saw 85 new bills introduced in 26 states, 7 bills enacted across 4 states including Arizona, Florida, Georgia, and Louisiana. We are preparing a special report for members this month. 
We're fighting "gender affirming care" to protect children from making adult decisions including genital mutilation, chemical castration, and hormone therapies.
We're fighting for School Choice for All Kids to give the power of the purse back to parents and making a way out for children to be protected from Marxism, Race Theory, Gender Fluidity, DEI, and Comprehensive Sex Education indoctrination in public school!
We're fighting for our girl's rights to privacy in and maintaining female ONLY biological sex in sports. See State Campaigns.
We're fighting against partisan censorship in public schools with nearly 1.4 million actions.
We've fought to Mandate Freedom and remained vigilant to prevent egregious Covid Vaxx and mask mandates in schools and in our communities for students and faculty. See State Campaigns.
"The family has always been the cornerstone of American society. Our families nurture, preserve, and pass on to each succeeding generation the values we share and cherish, values that are the foundation of our freedoms." -Ronald Reagan
Let's act on behalf of families nationwide to give them their best chance of preserving our values and freedoms!
Stronger together!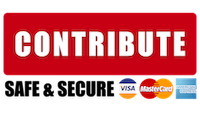 ACT for America Education, a 501(c)(3) organization.
All donations are tax-deductible.
869 Lynnhaven Pkwy, 113 #411
Virginia Beach, VA 23452 USA