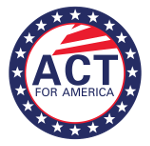 FOR IMMEDIATE RELEASE
ACT FOR AMERICA CHAMPIONS PARENTAL RIGHTS LEGISLATION TO EMPOWER FAMILIES
Washington, DC, June 1, 2023 – Act for America, the nation's largest grassroots national security organization, is proud to announce its commitment to championing Parental Rights legislation to safeguard the rights of parents and empower families across the United States. With a vision to protect American values and ensure the well-being of children, Act for America is taking proactive steps to advocate for legislation that upholds the fundamental rights of parents.

Parental Rights legislation seeks to reinforce the vital role parents play in the lives of their children and protect their ability to make decisions regarding their children's upbringing, education, and healthcare. Act for America recognizes that parents are the primary caregivers and decision-makers for their children, and their rights should be safeguarded and respected.

Act for America believes that robust Parental Rights legislation will provide parents with the necessary legal protections, ensuring that their rights are not infringed upon by government overreach or intrusive policies. By advocating for these measures, Act for America aims to empower parents to make informed decisions that align with their values, beliefs, and the best interests of their children.

"Our children are our most precious assets, and parents should have the ultimate authority and responsibility to guide their upbringing," stated Brigitte Gabriel, Founder and Chairman of Act for America. "By advocating for strong Parental Rights legislation, Act for America is taking a crucial step towards protecting the rights of parents and ensuring that families have the freedom to raise their children according to their values and beliefs."

Through grassroots mobilization efforts, Act for America plans to engage with lawmakers, community leaders, and concerned citizens to raise awareness about the importance of Parental Rights legislation. The organization will collaborate with like-minded organizations, lawmakers, and legal experts to develop comprehensive legislation that upholds the rights of parents while considering the best interests of children.

Act for America invites all individuals and organizations who share a commitment to preserving parental authority and safeguarding children's well-being to join their efforts. By uniting together, Act for America believes that significant progress can be made in passing strong Parental Rights legislation that will benefit families across the nation.

For more information on Act for America and its initiatives to protect Parental Rights, please visit www.actforamerica.org.

Act for America is the nation's largest grassroots national security organization dedicated to safeguarding America through education and advocacy. Act for America engages with citizens, community leaders, and policymakers to raise awareness, mobilize support, and drive positive change. For more information, please visit actforamerica.org