Bracing for Devastating Border Invasion!
Tragic Consequences on the Horizon
Act for America | 4/17/2023
The Biden Administration has created an egregious burden on our national and economic security that cannot be easily undone.   
As reported last November, October of 2022 was the worst October in Border Patrol history, at over 231 thousand illegal entries recorded. The first quarter showed a new monthly average high of 240,000 compared to Biden's average of 173,000 for the same period in the year prior. Note that Trumps average was down to 38,000 a month before Biden took office.   
As we brace for the end of the Trump era Title 42 expulsion order we should expect a historic surge as US Customs and Border Patrol reports thousands upon thousands of illegal immigrants are waiting in place in Mexico in anticipation of Title 42 restrictions coming to an end. We should expect to see record breaking monthly crossings exceeding 300 to 400 thousand in the months to come.  
Our border patrol is understaffed, demoralized (some even suicidal), and overwhelmed as it is!   
Speaking of record numbers…
Biden's open border promises on the campaign trail became immediate policy change that resulted in Mayorkas and Homeland Security surrendering operational control of the border and national security to the Cartel.
Worse yet, we all know terrorists and foreign adversaries are not standing in long lines at official border crossing points praying to get in! They are largely part of the millions of 'got aways'! We had 98 terrorist apprehensions in the first 6 months of 2022, which is more such apprehensions than occurred during the previous 5 years combined.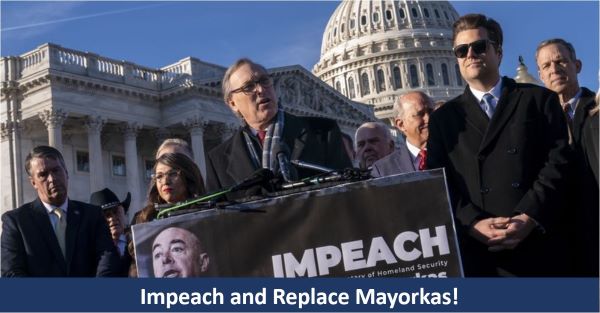 Documented Illegal Crossings
At Our Southern Border
In 2020, Trumps monthly average was down to 38 thousand, well below 100,000, yet within a few months of Biden taking office the new norm shot well over 100,000 monthly and is trending at over 150,000 from April of 2021 to today. "Not good", as Trump would say.
Total Border Crossings Summary
Biden's 26 Month Record
4,925,547 Illegal Crossings
Trump's Previous 26 Month Record
1,592,762 Illegal Crossings
Biden's Cost to American Tax Payers
Over 591 billion dollars
IF Trump had been re-elected, we would have seen a continued reduction of at least 34% compared to Trumps previous presidential term with a maximum prediction of 988 thousand total illegals crossing and a low-end prediction of only 267-300 thousand TOTAL and save the country at least 60 billion dollars.
All Single Adult Illegal Crossings  
Biden has invited the world to flood our southern border and they are!
Biden has invited 3.3 million 'Single Adult' illegal crossings, at a cost of 396 billion, in the past 26 months of office compared to Trump's 884 thousand in the same period; that's a 273% increase! That's nearly 3 times the size of our active-duty military which is 1.2 million strong! 
Single Adults directly compete for American jobs in our most vulnerable economic sectors, they are not arriving with families, and should have been automatically expelled!
Single Adults represent 67% of all illegal entries. If we had expelled single adults instead of quietly shuttling them to anywhere USA, Biden's total illegal entries would have only been 1.6 million over the past 26 months compared to Trumps 1.5 million over the same period.
'Other Single Adults', coming from countries other than Mexico and Central America are continuing to skyrocket!
Biden has invited 1.9 million, at a cost of $235 billion dollars, in the past 26 months of office compared to Trump's 184,334 (this is not a typo) in the same period; that's a 963% increase!
The greatest crime the Biden Administration's failure to defend and protect the saddest victims of our open border policy, unaccompanied minors, which continues to average over 12 thousand a month compared to Trumps low of 2,770 in his last year in office.
Biden has allowed over 357 thousand unaccompanied minors to be smuggled and abandoned at our doorstep and placed into the hands of untrustworthy Health and Human Services and bad sponsors and 'foster' homes that are permitted to exploit these children, including forced child slave labor and sex work, which should break our hearts and make us step up and fight if nothing else moves you!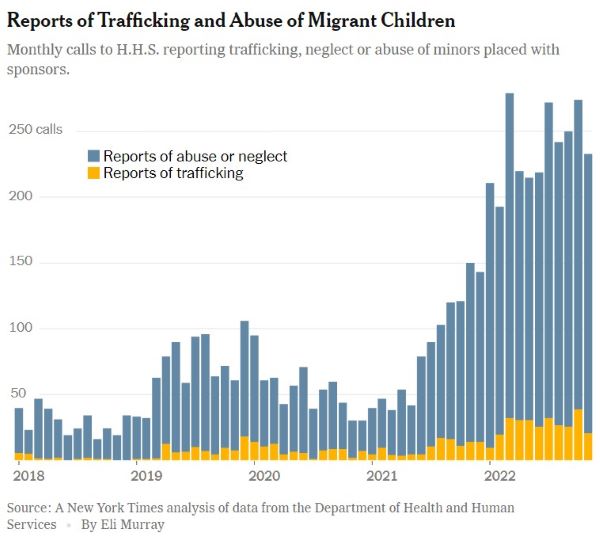 Please note that every 'hockey stick' chart provided shows the border crisis changed for the worst beginning in 2021 when Biden's new border policies suspended immigration and border security laws!
During the Trump administration, they managed to reduce the total unaccompanied minors to a historic low of 33,239 from 80,634 the year prior. That year, the Health and Human Services lost track of roughly 6,647 children compared to 19,352 the year prior due to the significant reduction in illegal crossings as we reached our zenith of southern border operational control. 
In 2021 everything changed! Unaccompanied minors went from an all time low to a record breaking 146,925 (documented) and lost track of nearly 50,000 children followed by another disastrous year of 152,088 and 51,000 children thrown to the wind! Heartbreaking!
In the last 2 years of the Trump administration, we lost track of 26,000 children compared to 101,000 children in the first two years of the Biden administration.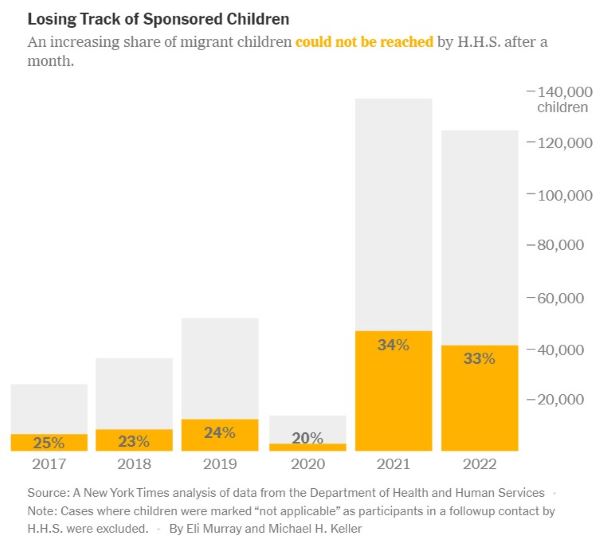 Biden administration is coordinating a multi-prong assault on our nations sovereignty and security, working on major policies in tandem including open borders, the WHO Health Agreement, the latest warrantless Restrict Act, and MANY federal and state level efforts for a one-party takeover of our election system.
Unaccompanied minors is, to the Left, an unfortunate (or fortunate for those exploiting children as slave labor) and inconvenient result of their open border policies to achieve their "Democratic Socialist" revolution.
Click on the images below to ACT NOW!
ACT for America Education, a 501(c)(3) organization.
All donations are tax-deductible.
869 Lynnhaven Pkwy, 113 #411
Virginia Beach, VA 23452 USA